20 years delivering heat and cold in Parque das Nações
CLIMAESPAÇO has been generating and distributing cold and heat, in the form of chilled water and hot water, to the Parque das Nações buildings since 1998. This system eliminates the need to use conventional air-conditioning equipment, boilers and water heaters.
Thermal energy is generated in a highly efficient trigeneration plant and delivered to thousands of customers through a 90-kilometre long network of pipes, part of which is installed in accessible sections. It is used mainly for air-conditioning and producing hot water.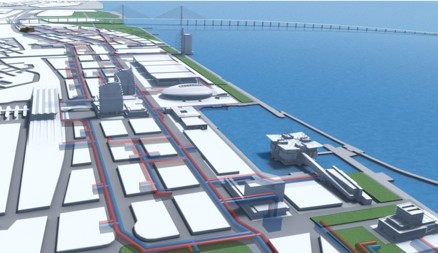 A ground-breaking project in Portugal
CLIMAESPAÇO and the ENGIE Group were responsible for introducing the concept of centralized distribution of thermal energy to Portugal at urban scale. The Parque das Nações heating and cooling network is the first infrastructure of this kind built in the country. The Lisbon network is the outcome of a broad combination of innovative technologies and is recognized as one of the greatest international references in this field.
Higher efficiency, for a better environment
Unlike conventional power plants, CLIMAESPAÇO harnesses all the available heat leaving the turbine, thereby recovering a significant quantity of energy that would otherwise dissipate in the atmosphere.
At Parque das Nações, all this energy is recovered and used to heat and cool the buildings and to produce hot water. It is also used for heating swimming pools or cooling the Oceanarium tanks.
The result is a significant efficiency gain, minimised primary energy consumption and a 40% cut in CO2 emissions.
Heating and cooling networks, the ideal solution for energy transition
In a fast changing world, district heating and cooling networks are the ideal solution for the energy transition challenge. A neighbourhood or city served by this kind of network instantly benefits from all the technical innovations and new energy sources added to the system. This modernisation would take decades if, instead of a network, there were thousands of individual devices spread out across the city. At present, there are over 6.000 networks in Europe alone catering to approximately 12% of European heating needs.
To find out more about CLIMAESPAÇO, please visit our site at www.climaespaco.pt