District Heating and Cooling Network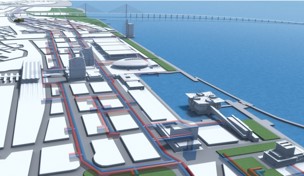 ENGIE operates over 320 distric heating and cooling networks in 20 countries and is currently the world's largest operator of cooling networks. The ENGIE Group operates the netwoks of cities such as Paris, London, Barcelona, Lisbon, Monaco and Abu Dhabi, among many others.
In Parque das Nações, Climaespaço's high-efficiency trigeneration plant supplies heating and cooling for thousands of customers, meaning a reduction of over 40% in CO2 emissions.
A heating and cooling network is an infrastructure that allows cities to be designed in a more integrated and efficient manner, replacing individual heating and cooling systems. In a rapidly changing world, these networks are the ideal solution for the energy transition challenge.
In Portugal, our goal is to develop this concept in small networks, in municipalities or industrial estates, using local and renewable energy sources such as biomass.
  Integrated maintenance services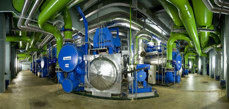 The ENGIE Group is a worldwide leader in energy services.
In Portugal, ENGIE is a reference player in the management of technical facilities in industry and buildings. It supplies a wide range of services including installation, operation and maintenance.
ENGIE provides specialised services in air-conditioning, electricity, mechanics and fire safety, among others.
It has a portfolio of over 500 contracts in the following areas:
catering and beverages
aeronautics and automobiles
pharmaceutics and chemicals
pulp and paper
oil
services (office buildings, museums, datacenters, laboratories, hotels, shops, gymnasiums)
ENGIE has extensive experience in the management of Facility Management contracts, including hard and soft services.
Energy efficiency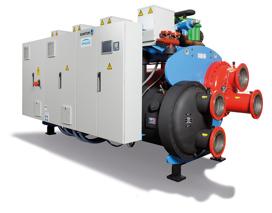 In tertiary and industrial sector facilities, ENGIE has implemented solutions aimed at energy efficiency and environmental sustainability in areas such as steam production, refrigeration, compressed air, air-conditioning and lighting.
As a qualified Energy Services Company (ESE), ENGIE is able to design and implement efficient solutions for power generation, distribution and use, tailored to the needs of each customer.
ENGIE has the capacity to invest in its customers power facilities, assuming the risk and guaranteeing results.
By establishing Energy Performance Contracts, ENGIE undertakes a commitment to reducing energy consumption and sharing savings with its customers.
Digital tools 
ENGIE makes available a number of digital tools for monitoring and managing energy which allow for consumption to be optimised and behaviour to be modified, thus promoting energy efficiency.
In the world of Big Data and Industry 4.0, ENGIE is in the vanguard of digital transformation through the use of these new technologies, thus bringing added value for its customers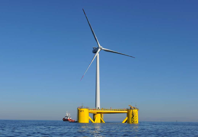 Electricity generation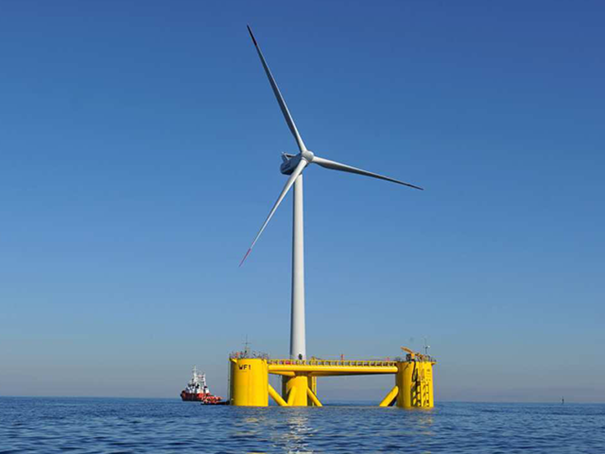 Through TrustWind, ENGIE manages a set of 12 windfarms from the north to the south of the country, which represent approximately 10% of Portugal's wind power capacity and amount to a total of 488 MW.
ENGIE is a member of the consortium that is building Windfloat Atlantic, the first offshore wind power project in Portugal. This project, located off the coast of Viana do Castelo, includes a series of large wind turbines mounted on floating platforms anchored to the seabed at a depth of 100 metres. With an installed capacity of 25 MW (equivalent to the power consumed by 60 thousand people), this is an innovative project and a worldwide reference. 
Decentralized generation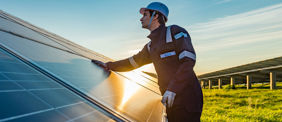 ENGIE is focused on the decentralized generation of electricity, using the sun as the main source of power.
We develop photovoltaic facilities, both on roofs and in parks, ensuring the reduction of our customers' energy bill and enhancing their corporate image of environmental and social responsibility.
Transformed energy
By adopting efficient technologies, ENGIE fosters the generation of transformed energy (hot water, steam, refrigeration, compressed air), through the use of renewable sources, recovery of residual heat and efficient conversion of electricity or natural gas.
For large power users, the combination with cogeneration (or trigeneration) systems means a reduction of energy costs and pollutant emissions.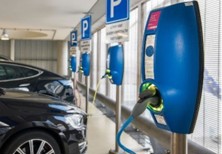 Electrical mobility
The ENGIE Group is the owner of EVBOX, the world leader in the manufacture of electrical chargers and charging management software.
Apart from sizing and assistance in the selection of charging posts, ENGIE's offer stands out because of its remote smart management of charging points, taking into account criteria such as available power outputs, load balancing and priorities of arrival, among others.
In Portugal, ENGIE is a Charging Point Operator in the MOBI.E network.